Mod. PURE PLUS sanitazing kit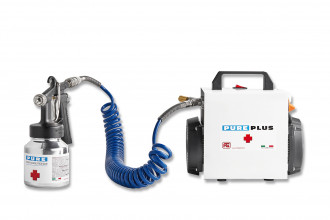 PURE PLUS is the professional kit to quickly and effectively sanitize room and surfaces.
the kit includes:
the compact compressor equipped with a double cooling fan and a removable suction filter cartridge for cleaning in case of need
the aerograph with a special nozzle for spraying the sanitizing liquid
the high quality polyurethane spiral.
The use is very simple, just fill the spray gun tank with the sanitizing liquid, turn on the compressor and spray the product on the surface to be treated.
The Pure Plus kit is a product built entirely in Italy.